IS THE ENGLISH USED IN YOUR BUSINESS TAKING IT GLOBAL OR
KEEPING IT LOCAL?
It only takes 90 days to go from making local sales to being engaged in high-powered international business deals, meetings and negotiations.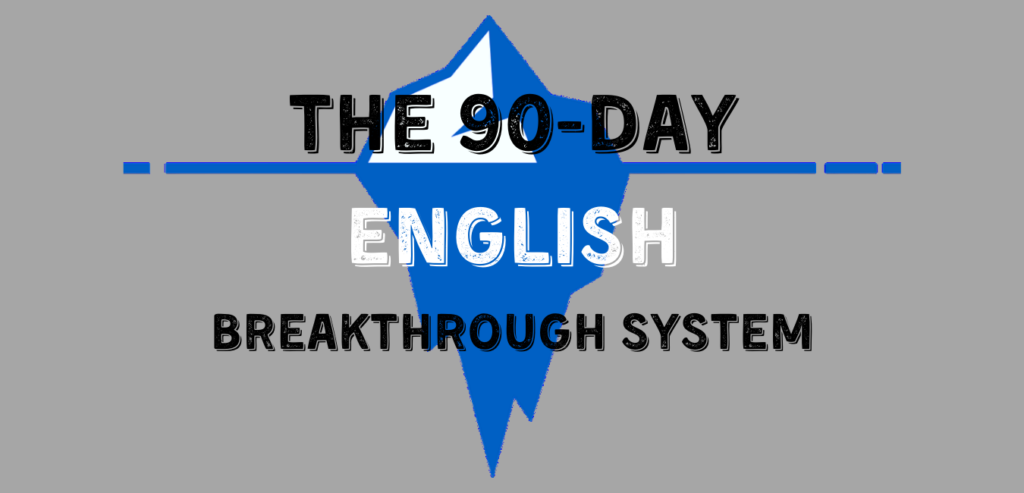 ENGLISH IS NO LONGER JUST A LANGUAGE, IT'S A CORPORATE SURVIVAL TOOL
Dear Business Owner,
If you find yourself dealing increasingly with English-speaking clients, suppliers and contractors while you and/or your team are not fluent in the language, this is the most important 20 minutes of your life!
The solution to your problem is right here, on this page. And it's less scary and more worthwhile than you think.
Whatever you feel inside, you're not alone. Many who own small to medium businesses are also experiencing the pinching effects of globalization.
The bad news is, this is only going to become more pronounced with time. And it will continue to add pressure on companies that operate in local languages.
The good news is, you CAN help your business rise above this.
Adopt English as your company's official language once and for all, and you can put the matter to rest forever.
I know it sounds like a major shift. And it is. But it's absolutely worth it!
Adopting English is the best investment for your company right now. Just consider the number of doors it'll open for your business in the long run.
And contrary to what you might think, it's not a difficult process at all. You and your team can transition in just 3 months with my 90-Day English Language Breakthrough System!
I am so excited to tell you everything about this unique system. It has helped hundreds of non-native speakers communicate, negotiate and collaborate confidently in the global arena! 
I have leveraged my teaching background, business coaching skills, personal experiences and academic qualifications in this program to change how people view language and transformation.
Today, they are my secret weapons in delivering a holistic solution that blows other one-dimensional business English courses and corporate language transition plans out of the water!
These are just a few of my qualifications that have helped me in the development of this system:
Teaching English as a Foreign language (TEFL) – i-to-i TEFL, UK
Certificate IV workplace training and assessment – MWT Institute, Australia
Master Success Coach (NLP, Time Line) – Metaphysics Institute of Psychology, Australia
Clinical Psychology of Children and Young People – University of Edinburgh, UK
My 90-Day English Language Breakthrough System is more focused, deliberate and effective compared to others, simply because…
There is so much more to business language transition than just understanding the mechanics of the English language.
My own experience in learning a foreign language (Czech)not long ago has taught me a lot.
A good coach is willing to be a part of each student's journey. They treat them as individuals with their own learning pace and mindset.
Investing the time and attention needed to discover the underlying reasons behind employees' struggles will determine how quickly the company transitions.
See, it's not just about teaching grammar or how to write official e-mails.
As someone trained in Neuro-Linguistic Programming (NLP), I use perceptual, behavioural, and communication techniques in my coaching sessions.
This advanced method helps my students change their thoughts and behaviours so that each of them develop the confidence to begin speaking English fluently.
I've learned that language transition also involves the leadership's patience, unwavering belief and support.
I have witnessed non-native English speakers struggle and distress over frustrating others at work, especially their superiors.
An individual employee may put in every effort to learn, but it won't help them advance if the leadership does not acknowledge the struggle. Nor provide the encouragement and space they need.
I facilitate the transition by integrating the company's culture, belief system and core values into my program.
And I increase the success rate further by evaluating the business' goals as a whole and aligning them to each individual's career goals.
As you can see, I combine many disciplines in my program to increase the odds of my clients achieving their goals. And because of this, I have yet to see a company that didn't transition within 90 days!
This is not some online business English course for which I give you login credentials upon payment. And then disappear.
There are tonnes of courses like that out there and they are usually not effective in transitioning a company over to English.
This is a system in which I personally coach, observe and help each employee. And I include the leadership team or business owner every step of the way to achieve one unified goal.
Discreetly, respectfully and compassionately.
Think this is exactly what you've been waiting for all along? Book a FREE, 30- minute discovery call with me.
WHY IT'LL BE HARD FOR BUSINESSES TO THRIVE WITHOUT ENGLISH IN THE LONG RUN
Imagine this.
International (and even local) competitors with bigger, more robust marketing strategies and budget have a 'bridge' to access potential clients in your region.
Meanwhile, you can't access this 'bridge'. You are restricted to your local market so you fight vigorously to protect your dwindling market share. But you know it's a losing battle.
This bridge is the English language, a common denominator in a diverse world.
By operating in your local language, you are automatically forfeiting your right to profit from the international market.
It is estimated that 1.35 billion people throughout the world speak English now.
It is no wonder why more and more foreign companies, big AND small, are choosing English as their language of business.
To name a few:
ITT Motion Technologies, an Italy-based engineering company
Sodexo, a France-based food services company
Nissan, a car manufacturing company based in Japan
Siemens, a German electronics company
Rakuten, Japan's largest online marketplace
Renault, a car manufacturing company based in France
Samsung, a South Korean electronics company
Ergo, a German insurance company
This is not an exhaustive list. There are thousands more!
What's interesting is that some of these companies have been around for centuries. Often, family-owned with age-old local traditions.
But they've realised that by collaborating across countries, they could become more efficient. And they see that English is an enabler of that.
Outside of the business landscape, nearly 80% of children in their primary years are learning English in Europe. A survey in Beijing found that 70% of Chinese parents want their children to learn the language.
What about the rest of the world? I don't have any numbers for you, but we can tell that almost everyone is catching up.
Like it or not, English is no longer spoken in just some parts of the world. Its status has ascended to global language of commerce and business.
For companies that do not operate in English, it's sadly also a decision to leave some precious doors unlocked…
THE COMPETITIVE EDGE OF BUSINESSES THAT ADOPT ENGLISH
Language barriers don't merely restrict the activity of buying and selling in the global arena. Your business actually loses out in so many other aspects!
If you had not missed these opportunities in the past, would your business look different today?
And if you unlocked all these doors now, where would your business be in the future?
The future of business is being continuously reshaped, even right now, whether or not you acknowledge the monumental shifts taking place globally.
Even if you can't keep up with ALL the changes, you can at least take the most crucial step of expanding your market.
To do that, you need to examine how far the language you currently use in your business could take you… in the future.
A BUSINESS' TRANSITION TO ENGLISH IS A JOINT EFFORT BY EVERY EMPLOYEE & LEADER
For savvy business owners, the dilemma isn't IF they should transition.
But HOW to transition a team when everyone already has a foundation in English but still can't use it effectively?
Maybe you hear yourself in a few of these statements…
I know all my staff have learned English at school, but we still can't speak it fluently or rely on it fully at work.
I can see my team is trying really hard to speak in English, but I can also see it's exhausting us and affecting our self-esteem.
Some of my employees are too shy to speak it at work and when forced to do so, become visibly stressed which affects their work quality.
All of my employees have had training in English but crucial negotiations and meetings still need to be held in our native language.
Even though everyone has had grammar lessons, we still make a ton of mistakes in our e-mails, letters and other official documents.
Despite having learned English, miscommunications still occur among our staff, costing the company money and delays.
Although we speak English well, we are unable to confidently represent our company on the international stage.
Do you believe that your team has done its best or given its all? Do you feel like YOU have gone as far as you can? In other words, are you afraid of forcing someone to become better at something they inherently can't?
This is one of the most raised concerns by businesses that are ready to transition, but don't have the confidence to make an 'invested' leap.
Here's my own experience that illustrates this…
I taught English at a bilingual preschool in Czech Republic not long ago. The rule required all Czech teachers to speak in English as they had to work alongside those who didn't speak Czech.
Naturally, the director of the preschool spoke English quite well. During teachers' meetings however, the director always struggled. She would switch to Czech halfway through the meetings because it exhausted her.
There was a lot of pressure on all the Czech teachers to perform well in their jobs, especially in their second language.
Over time, this caused a lot of resistance and we could see a form of segregation. Czechs verses the non-Czechs, even though we were all actually friends!
Even though these teachers had learnt English vocabulary and grammar in the past, conventional learning had not been enough.
And I completely understand how defeating it must feel for employees and ambitious business owners in the same boat.
Why can't adults effectively use a language they have already learned in business environments?
The answer is two-fold:
Traditional English lessons are not equipped to help businesses and non-native professionals transition to the language fully. This requires a different approach and level of training that most English teachers and educators have no idea about. So, it's not your fault or your employees' fault that you're not getting the results you want.
No, you and your team have NOT gone as far as you Because no one has shown you yet, how far you can actually go. With the technique I have outlined in my system, you and your team will discover a path you never knew existed. And it will take you all the way in your language learning and transformation journey.
When I help businesses transition to English, I also examine the individual employee. And the mindset of the leader or business owner.
This is because we all develop and nurture certain beliefs over the years. Some are real and helpful, but some can be false and harmful.
These deep-seated beliefs can seep into how leaders and employees view transition. And the mindset with which they approach the process.
Here are four prevalent beliefs that are actually myths, delaying change:
1.     MYTH: You have to be young to learn English
Learning English or any other language for that matter, does not depend on the age of the student. You and your employees can learn AND master any language at any age, provided there is intrinsic motivation to do so.
Don't believe me? Just Google the experiences of others who have done it and what researchers say about it.
2.     MYTH: You need to have exceptional talent to master English 
Everyone has the ability to master English regardless of their IQ, EQ, talent or skills. They just need to address some of the internal issues that have nothing to do with grammar or language at all! This is a process that I will guide you and your team through with the help of some of my tools.
3.     MYTH: Only those from certain regions and certain native speakers can become fluent in English
Even those who speak the closest languages such as Dutch and German sometimes have difficulties speaking English fluently. And then there are those as far away as Singapore and India who can rival the native speakers. Your geographic location and native language have no bearing on your ability to speak English fluently.
4.     MYTH: You have to live where English is spoken to be fluent in it
You might be more exposed to the language but that wouldn't automatically increase your ability to speak the language fluently. On the other hand, many people in Africa have never been to France, but they speak flawless French, probably even better than those living in French- speaking countries.
My own moment of revelation about myths and mindsets was life changing when I started learning Czech…
I once had to make a short announcement on the microphone, in Czech, to over 200 people in Prague.
I remember having hundreds of negative thoughts running through my head.
What if I make a mistake, what if people laugh at me?
I was so nervous, but I took a deep breath and said what I needed to say. Nearly every single head in the room turned to look at me and they all had this cheeky grin on their face.
My stomach was in knots. It must have been my horrible pronunciation that made them all turn and look at me. I was so embarrassed.
Shortly after, a few people came up to me and praised me for trying to speak their language. They were so proud of me.
I had never thought of it that way before. I just felt that I was not good enough and my pronunciation is poor.
With this positive encouragement, I decided to get on the microphone again and once again, all eyes were on me.
This time, I wasn't so embarrassed because my mindset had changed. I didn't see cheeky grins of shame. Instead, I saw smiles of respect.
Mindset.
Notice the negativity in the monologue that took place in my head? And how they never actually matched reality?
Isn't this also what you and your employees experience when faced with the daunting task of functioning in English? The negative self-talk!
Knowledge is just one component of language mastery.
Another component is practice in real life. And THAT cannot happen if you or your team members have convinced yourselves that:
my accent isn't right.
I sound silly in English.
my colleagues laugh at me.
I'll never be able to use it effectively.
I take too long to articulate my thoughts.
I'm going to feel uncomfortable speaking in English.
I'm making others feel uncomfortable by speaking in English.
These have nothing to do with knowledge but a person's confidence level and their feelings.
The people around them, their colleagues and superiors can intensify these feelings or ease them without even being aware.
This is one of the areas that my 90-Day English Language Breakthrough System will address.
I use some of the most cutting-edge tools and techniques to discredit these myths in individuals and teams at subconscious level.
In 90% of my corporate clients, they already have enough theoretical knowledge of the English language to transition their business fully.
Yes, that's right. And I'm willing to bet that's the case with you and your team. If so, that's half the battle already won!
The rest of the battle, I can help you win in 90 days. Don't believe me? Book a FREE 30-minute call with no obligations attached and challenge me.
THE ONLY SYSTEM PROVEN TO ACCELERATE TRANSITION TO ENGLISH
I developed the 90-Day English Language Breakthrough System for 2 reasons:
I have seen the predicament of forward-thinking companies being restricted to local markets due to language.
I have seen the struggles faced by dedicated employees that only they can understand.
This is the first professional English acquisition program in the world to help businesses transition to the language by focusing on employee mindset and aligned goals.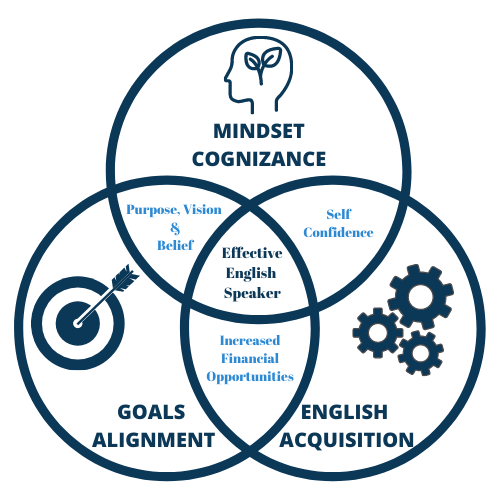 Even though my coaching program benefits the organisation as a whole, at its core, it's not about my system. Or even your company.
It's about your employees and working through their mindset, strengths and preconceived ideas while keeping their eyes on the main goal.
I work with individuals and teams who as adults, have developed strong sense of shame, vulnerability and inferiority complex.
And remove these obstacles in addition to teaching English so that companies can fully integrate with the international market.
My 90-Day English Language Breakthrough System has helped many companies all the way in India, Czech Republic, United Arab Emirates, Russia and Spain.!
Today, they have clients from all around the world, employ skilled expats and participate in international meetings, seminars and collaborations in English.
No opportunity is lost to them because of language barrier. That's how powerful and effective the 90-Day English Language Breakthrough System is!
If you have been postponing your decision to transition to English, now is the time to do it.
Take a deep breath, click the button below and accept my invitation to a private 30-minute chat.
QUIT MAKING THE SAME MISTAKE ALL OTHER BUSINESSES MAKE WHEN TRANSITIONING TO ENGLISH
You know what most business owners do when they decide to transition to English? They sign themselves or their teams up for a business English course.
It seems to be the most obvious solution and it's what 99% of businesses out there do. Does it work?
The answer is clear in the case of Radek Moravek, a logistics coordinator in Czech Republic. And a client of mine.
Radek had been learning English through traditional courses provided by his company for many years. But they weren't helping him. He understood many English words but was not able to understand a full sentence.
Eventually, he approached his company and asked if he could take external classes with me. The company agreed that if they saw improvement in his English, they would pay for his classes with me.
Before we began, Radek's company gave him an English test and he was in the bottom 10%.
After 3 months with me, he was in the top 10%.
Not only did his speaking skills improve, he also learned to respond to his clients better via email.
Radek was really happy because his boss began to trust him enough to allow him to respond to clients during his absence.
His boss was also extremely happy because he was finally able to take a well- deserved holiday while feeling confident his office was in good hands.
English courses may be the obvious option for many. But they may not necessarily be effective, just like in Radek's case.
In fact, if you search through the internet, you will never find a proper language transition program for businesses. At least none with the level of depth that my program offers.
Most online business English courses are developed to make money for the course creators while they sleep.
They develop tonnes of courses that hand you the same theories, but not the personalised support and guidance that you and your team need.
They are too afraid to be in the trenches with you and get their hands dirty!
A lot of methods out there include videos to watch, homework, oral tests, exams… It might sound like you're getting a lot of value for your money. But honestly, you work around the clock and your employees are busy.
Who has the time?
Don't make the mistake of choosing the easiest option available. Especially when it comes to the most important decision for your business.
What you decide today will determine how well your business will survive the rising tide of globalisation in years to come.
There's something very important that business owners don't realise when they sign up for traditional or online language courses.
You're not just wasting your time and money when you select the wrong program to transition your business to English.
You also damage your employees' self-confidence and drive when yet another course fails to deliver. The same goes for you.
The more failed attempts, the more entrenched the misguided beliefs become. And the more difficult it is for result-oriented coaches like me to rebuild them.
So, let me do the work right from the start and save you precious time, money and team morale.
You may not know the struggles of your employees when you plan to transition. Especially if English is not a problem for you.
But I have seen first-hand, how colleagues turn against colleagues, frustrations build up and self-confidence gets eroded.
I'm here to make the whole process easier on your business and every single person involved.
If you've made the decision to make English the official language of your business, it's only the first step.
Work with a true language instructor, business coach and NLP trained professional like me to guarantee success.
Don't hesitate, do it now. Feel free to contact me for more information about my unique system. There's no obligation on your part, but it may just open up a whole new world of opportunities!
WHAT YOU CAN EXPECT WHEN YOU SIGN-UP WITH ME
With the 90-Day English Language Breakthrough System, the learning process whether it's for you or your entire team, is simplified.
When you sign-up, you will get:
One-on-one (or group) sessions lasting 60 minutes per session with a professional native English coach – that's me!
A clear strategy and set of goals designed specifically for you (and your team members) so that you can achieve exactly what you want for your business.
An easy-to-follow action plan that motivates and keeps the entire team on track so that you can achieve your goals as quickly as possible.
A professional language coach to assist in discovering and eliminating obstacles that would prevent achieving language learning goals.
The tools and tactics to read, write, speak and perform better in every situation.
Email and text message support.
Weekly challenges.
Access to my private Facebook Group.
 In just 3 short months, your business will be proudly poised to expand your market internationally.
You and your team will be able to…
share their opinions and ideas during meetings.
talk confidently with colleagues, peers, superiors and clients.
close deals without struggling to find the right words.
write better e-mails and letters.
give clear and powerful presentations.
improve your business' customer service quality.
use social media platforms effectively for your business.
reduce miscommunications resulting in loss of time and money.
network and learn from a larger group of people.
solve problems and communicate issues timely.
answer questions confidently using existing knowledge.
represent your company in a dignified and professional manner.
My 90-Day English Language Breakthrough System takes entire companies and individuals on a 180° transformation journey.
It is fulfilling and empowering on so many levels as experienced by my clients!
ROMANA ŠILOVA
English Teacher
I am one of only a few deputy heads in the Czech Republic who can speak and understand English quite well. I have learned 350 new words which gives me a great sense of growth. I am so proud of myself.
I never knew that learning English could be so much fun. This morning I was teaching 4th grade and I noticed that the children are really improving. My students are smiling, they are active and having fun.
It must be because I have been connecting my pedagogical and English skills together to create really good and engaging lessons. I have also been getting great feedback from parents that the kids love my lessons.
Today I was speaking with English-speaking parents and I could understand everything they were saying and I was confidently answering their questions.
English is now one of my favourite hobbies. I am enjoying watching films and listening to audio books. I am looking forward to calling my friend Laura, from Italy, and connecting with her on a deeper level.
I feel satisfied.
"YOU CAN REALLY SEE THE RESULTS"
Juan Manuel Guerrer SPAIN
"SHOOTING THIS VIDEO WAS UNIMAGINABLE FOR ME BEFORE"
Veronica Cenelli ITALY
 

"SHE HELPED ME TAP INTO MY AUTHENTIC SELF AND THAT WAS A GAMECHANGER FOR ME"

Sergey Shevtsov RUSSIA
BUSINESSES THAT WILL BENEFIT FROM 90-DAY ENGLISH LANGUAGE BREAKTHROUGH SYSTEM
The localised structure in these industries is quickly being replaced by more transparent and integrated business models.
Geographic boundaries that traditionally restricted these industries are no longer relevant thanks to:
secure payment gateways
improved delivery systems and services
cheaper telecommunication services
smarter customers and users
free access to data and information
direct access to companies and reviews through social media
Perhaps you have been following their development. And maybe you've changed your business model to fit the times too.
But the big picture is incomplete until you fit in the final piece of the puzzle:
A language that bridges the gap between you, the rest of the world, and the future.
To get started, just pick a package that suits your business type and need.
Listen. Is this a big decision? Absolutely. Will it take effort and time on your part to transition your business to English? Yes. 
 It's a given. But what matters is, will it be worth it in the end? 
 With my 90-Day English Language Breakthrough System, I assure you that it will be.
I know you're thinking that standard business English courses are cheaper than my program. And I agree with you. 
They're cheaper because they're designed to give you the basics of the English language. NOT to transition your business in a practical world.
It won't guide your team along while also obliterating the obstacles. 
Honestly, you get so much more in my program for its price! And it's tax deductible. 
Once you sign up for my program, you will have FREE access to my Facebook group (valued at €27 for 30 days) FOR LIFE! 
 It's like a mini-English school, only a lot more fun with weekly challenges and interesting topics of discussion. 
For those who are in my program, it's the safest place in the world to have conversations in English, discuss individual problems and open up. 
No one will understand what you and your team are going through better than the people you'll meet in this group. 
But don't take my word for it. Check out what the Facebook group members are saying:
I really want others to know that the platform you have created for people like me to improve English conversation is so worthy that u not only gain improvement in English but you also gain confidence. People in the group are really friendly and supportive.

I lacked confidence and I used to hesitate at the time of speaking with other people. Here in this group I have strengthened my speaking skills and I have also noticed that I don't need to talk only with native speakers to enhance my speaking skills.

I was shy and I lacked so much confidence in speaking. Even though words and sentences came into my mind they just didn't come out of my mouth because of the fear that others who hear will judge me and it will hurt my inner confidence. But the total opposite happened.
After joining your group, I rapidly increased the fluency of my spoken language as well as the ability to understand people speaking with different accents. I'm not afraid to answer when somebody asks me an unexpected question anymore. I feel more secure and I have a lot of new friends ready to enrich my life.
Thank you. I appreciate that you created such a great group where we can try to speak no matter how we are going. It's very helpful.



Before I joined the group my problem was with my speaking. My speech was not clear maybe because of my accent, but it has improved throughout this 30-day challenge. Now I can speak more clearly.


And that's just my Facebook group. 
There are coaching sessions, goal setting activity (which is another gold mine), action plan development, neuro science based limiting beliefs removal (an absolute gem), other tools and tactics and online support. 
Before you commit to another program, please compare how much MORE you're actually getting with mine. Consider the level of my involvement and accountability in your success. 
Honestly, NONE of the programs out there include all of the above for the price I'm offering my program at. 
Look, I'm not one to make false claims, so I'll put my money where my mouth is.
If after 2 weeks of working together, you don't feel that this program is for you, we will stop right there. I will return your money back. I will not ask you any questions and there will be no hard feelings.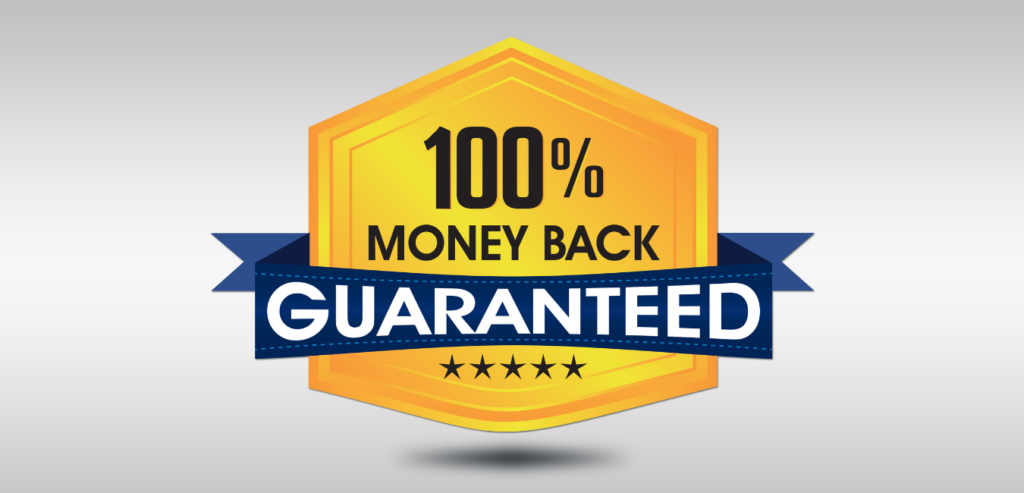 That's how confident I am that my system and coaching technique work. 
I have practically removed every risk there is because I really want you to transition to English. I want you to be able to expand globally and not let language barrier stunt your business growth indefinitely. 
All you have to do is commit to transition and let me do all the heavy lifting for you. 
My program has already empowered so many people around the world and helped their companies gain a competitive edge. 
YOURS IS NEXT! 
Are you ready?
FREQUENTLY ASKED QUESTIONS ABOUT 90-DAY ENGLISH LANGUAGE BREAKTHROUGH SYSTEM